This is a unique and rare opportunity for you to purchase a fully functioning and habitable underground nuclear fallout shelter. The shelter is 306 square foot of extra space that can be utilised as a safe room, home office, gym or quirky guest accommodation. The shelter is buried to a depth of 4 meters, is fully insulated and protected from nuclear radiation and water through different layers of materials. The shelter is totally 'off the grid' having its own septic tank, water, air and electricity supply. The shelter is of the highest quality, designed and built to last for over 100 years. There is an extremely limited supply of these units, which can be tailored to your individual requirements and specifications.
For product protection and our clients' security, not all details can be divulged. Please see below for scale images.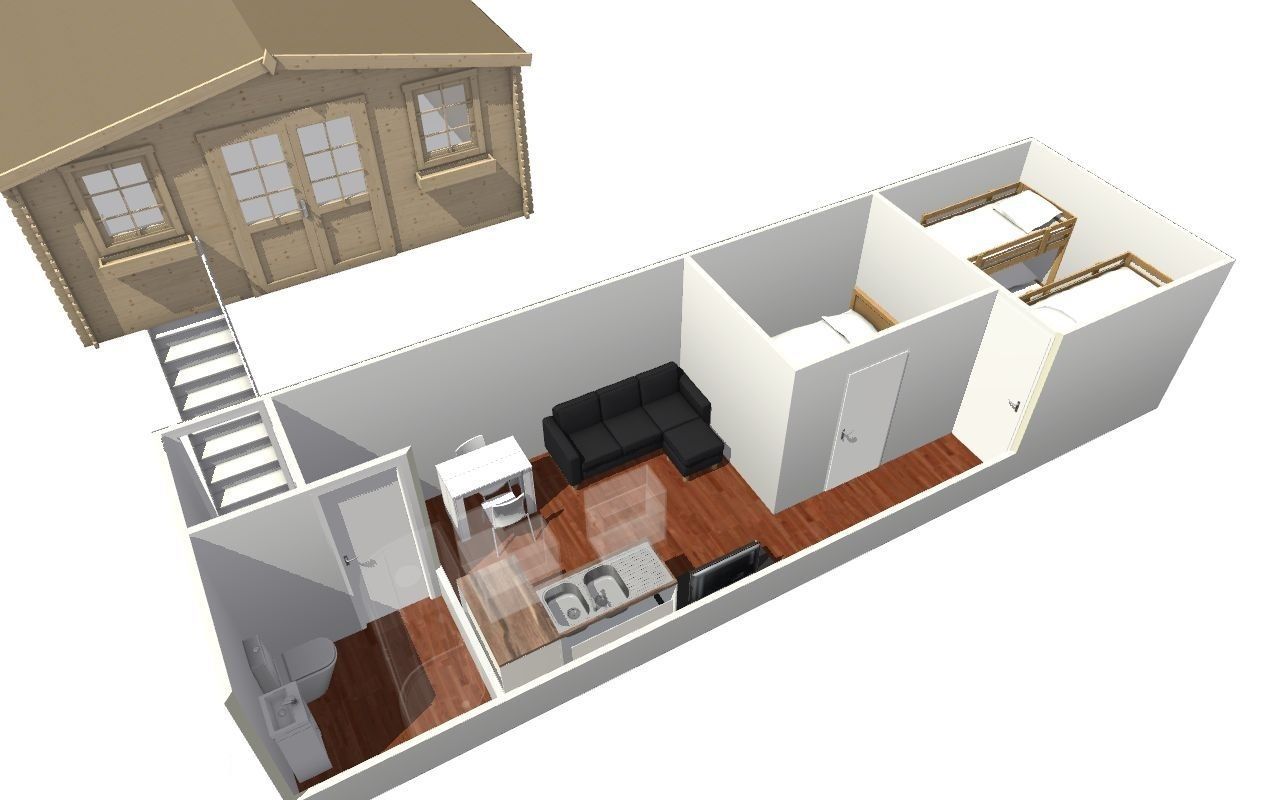 Above is an overview of the shelter. The dimensions are 34ft x 9ft internally with a generous ceiling height of 8ft. The unit is made from large steel sheets welded internally and externally for an air/watertight seal with an external skeleton of angle iron to increase strength. The unit is then coated with the same paint used on submarines and fully insulated with foam and surrounded with 10 inches of reinforced waterproof concrete.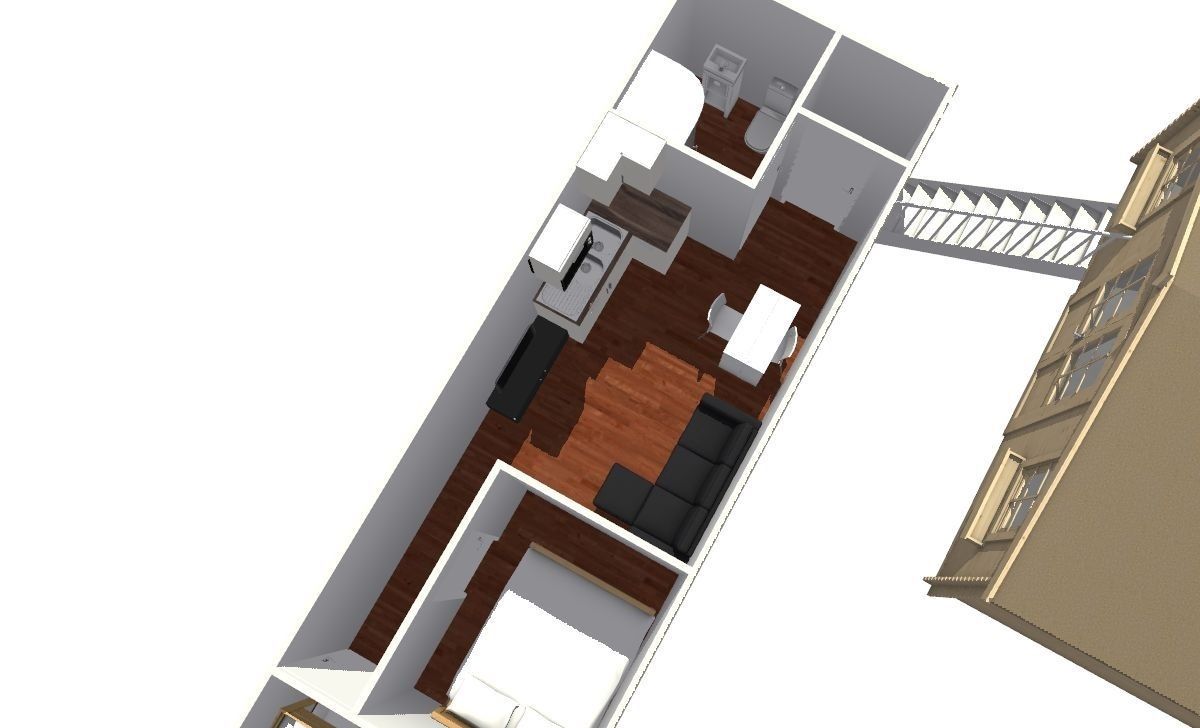 The entrance to the shelter is located inside a summer house which is included in the package. The entrance is as covert as possible and leads to a standard size stairway with a bannister rail. The stairway is of steel construction and is encased in 6 inches of reinforced concrete. The entrance is a room within itself and comprises of a steel watertight door with a blast hatch on the top at a height of 7ft to cope with floods of up to 7 feet. The ventilation is covertly hidden within the summerhouse.
At the bottom of the stairway is a secure door opening into a small hallway which can be later used for several applications once the main door is closed. There is then a secure entrance to the living area of the shelter.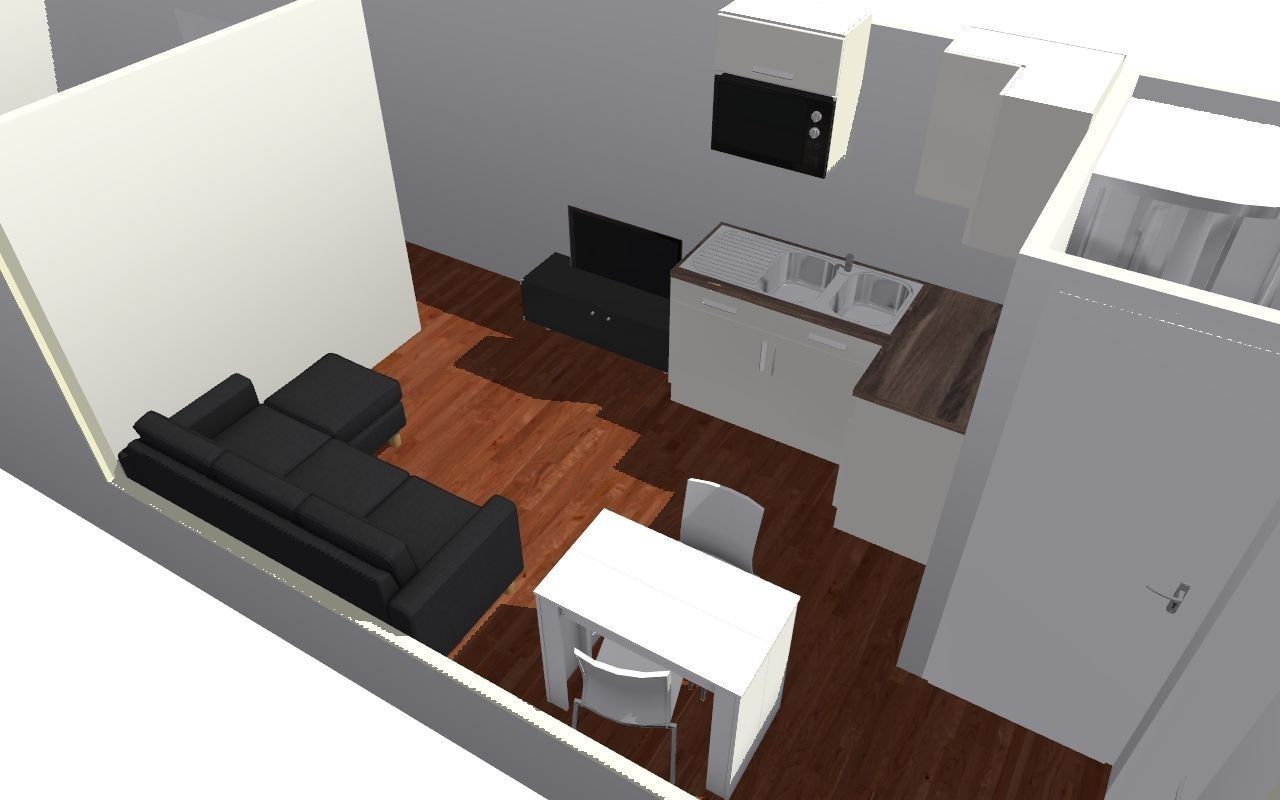 Once you enter the fallout shelter there is a shower room and toilet area to the right that can be used as a decontamination room if there should be any risk of fallout. The total area of the living space is 138 square feet, sufficient for a small dining area, seating area/lounge and a kitchen.
As you pass through the living area there are 2 rooms to the rear. They can be utilised as you wish but they have been constructed to easily fit the beds that are illustrated. We feel that it is important to have those separate rooms so that people have their own space within the unit. The psychological effects of 10 people locked in a single room with no furnishings for any length of time are worth considering. The walls are made from steel and can be unbolted and removed if required and easily re-erected when needed.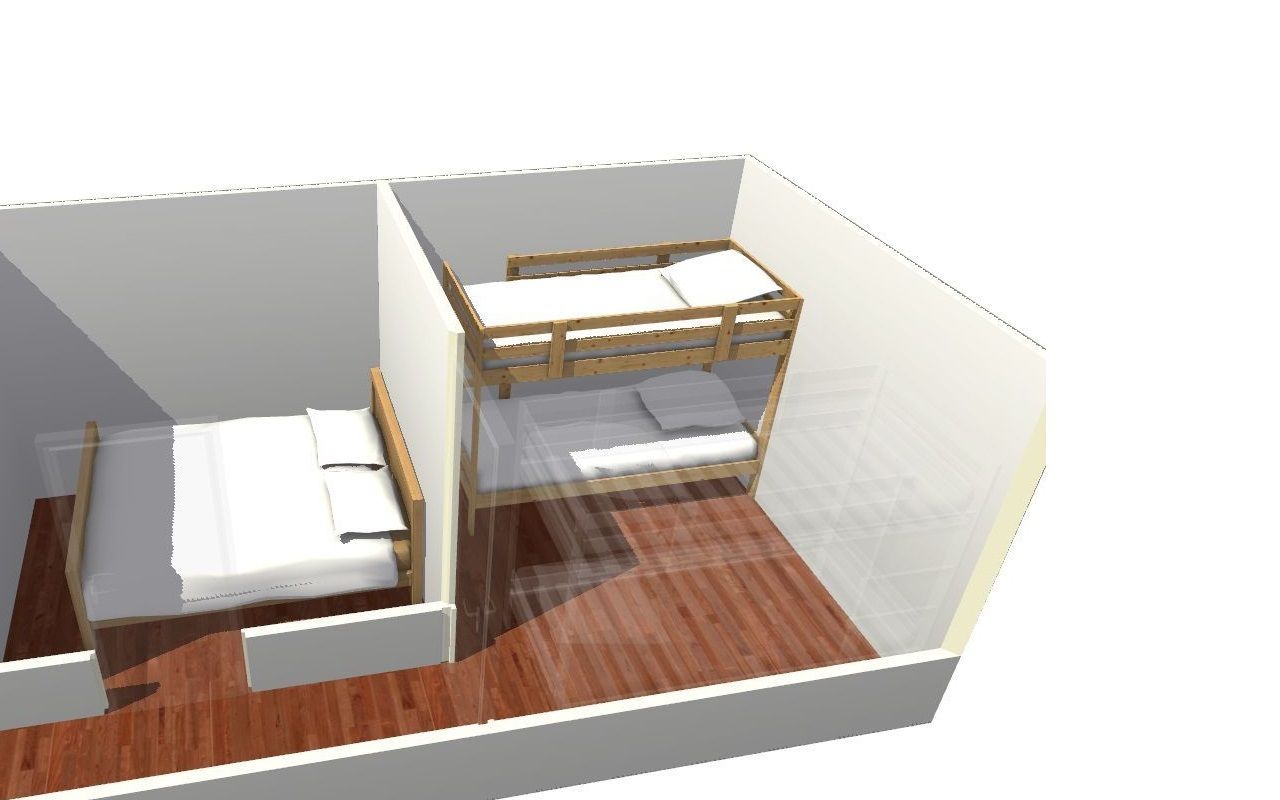 The double room is 52 square feet and can easily accommodate a double bed. Both these doors come with a lock. The master bedroom could be used to keep some supplies in. It is worth noting that this room is large enough to take a bed in any position, i.e. width ways rather than lengthways as illustrated above.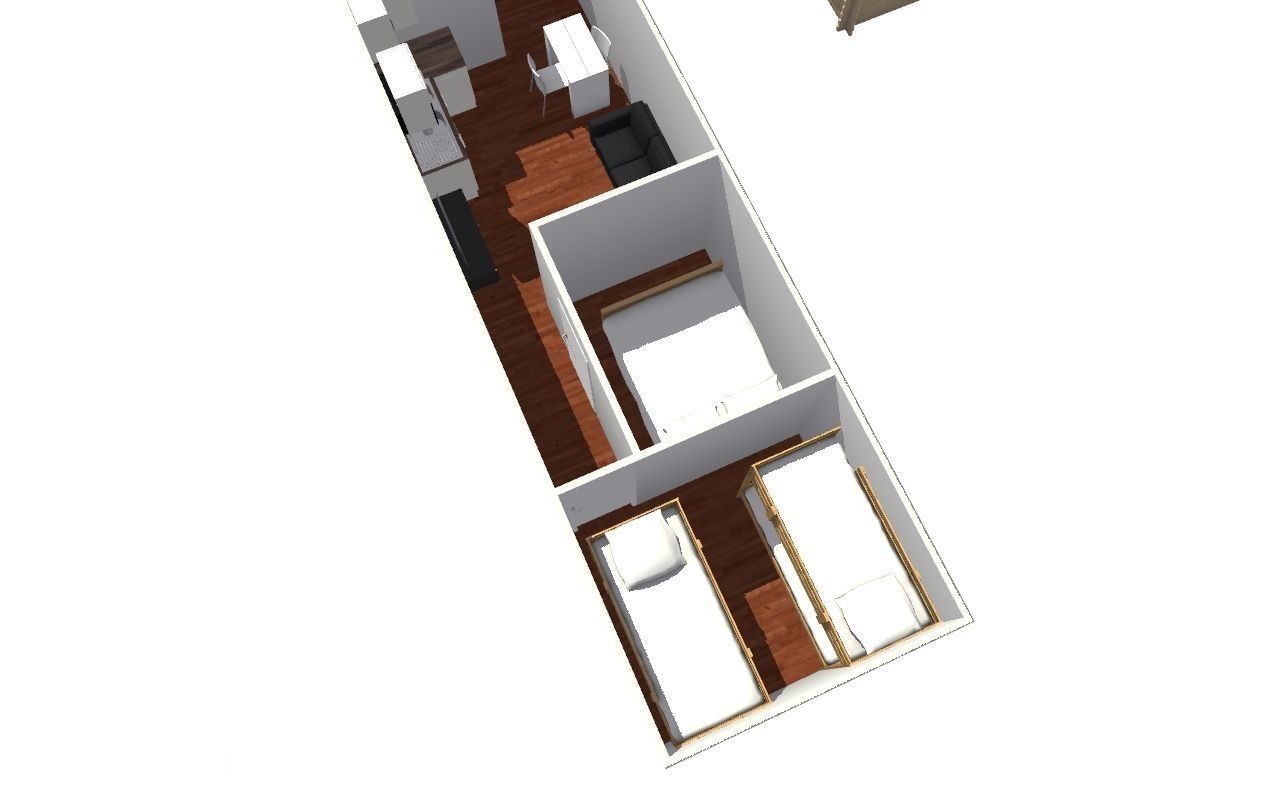 The rear bedroom is capable of sleeping 6 people (based on 4 bunk beds). This room can also be used as a storeroom.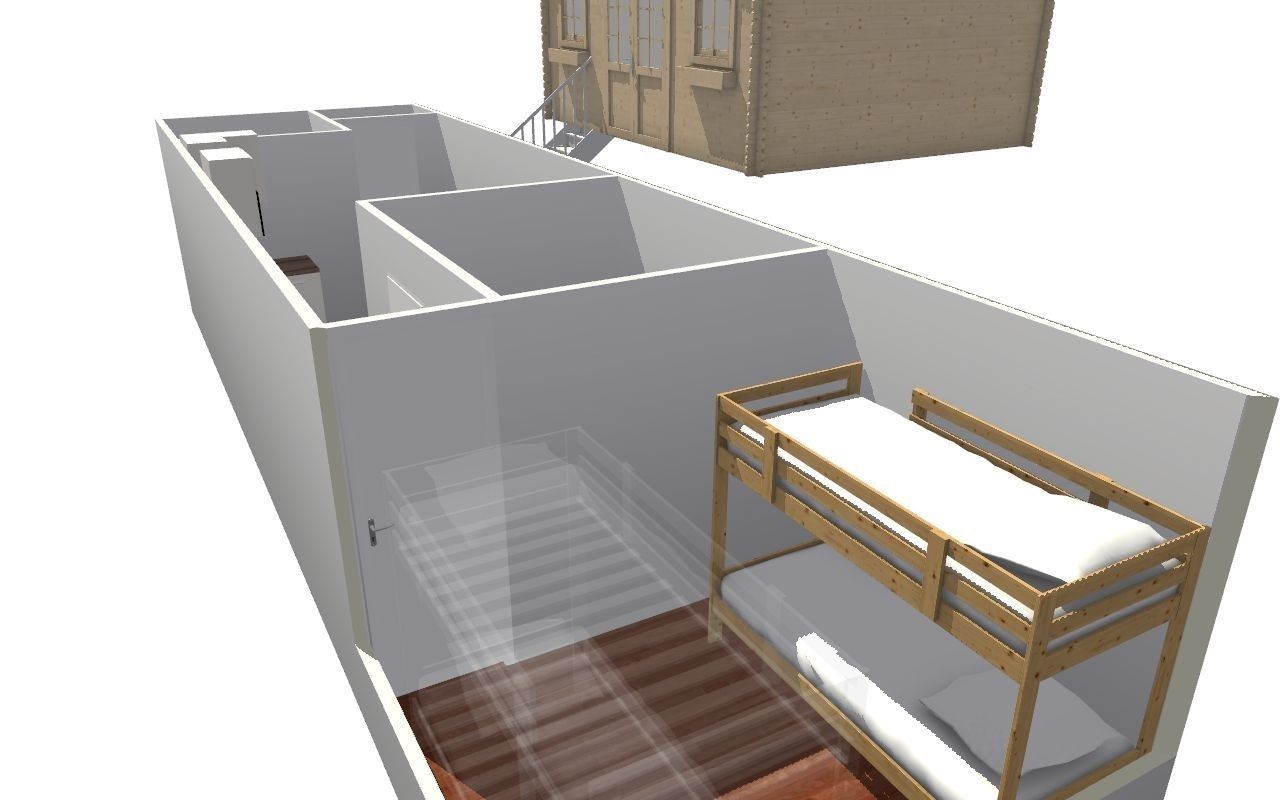 Again the beds can be arranged in a different way if your preference. This is the larger of the two rear rooms at 73 Sq ft.
Bird's eye view of the bedroom accommodation.
The living area has enough space for a sofa unit (the unit illustrated is approximately 41″ x 63″ or 102cm x 157cm). The kitchen units come with hold and cold water that is run off the 1kw 'stand-alone' solar energy system. There will be a double power socket in each bedroom and 3 double sockets in the lounge. This should be plenty for a TV, microwave and supplementary lighting, laptop chargers etc. We will set up the stand-alone system and if you wish we can also add an RCD onto the fuse-board for a supply from the house, this will be an extra service.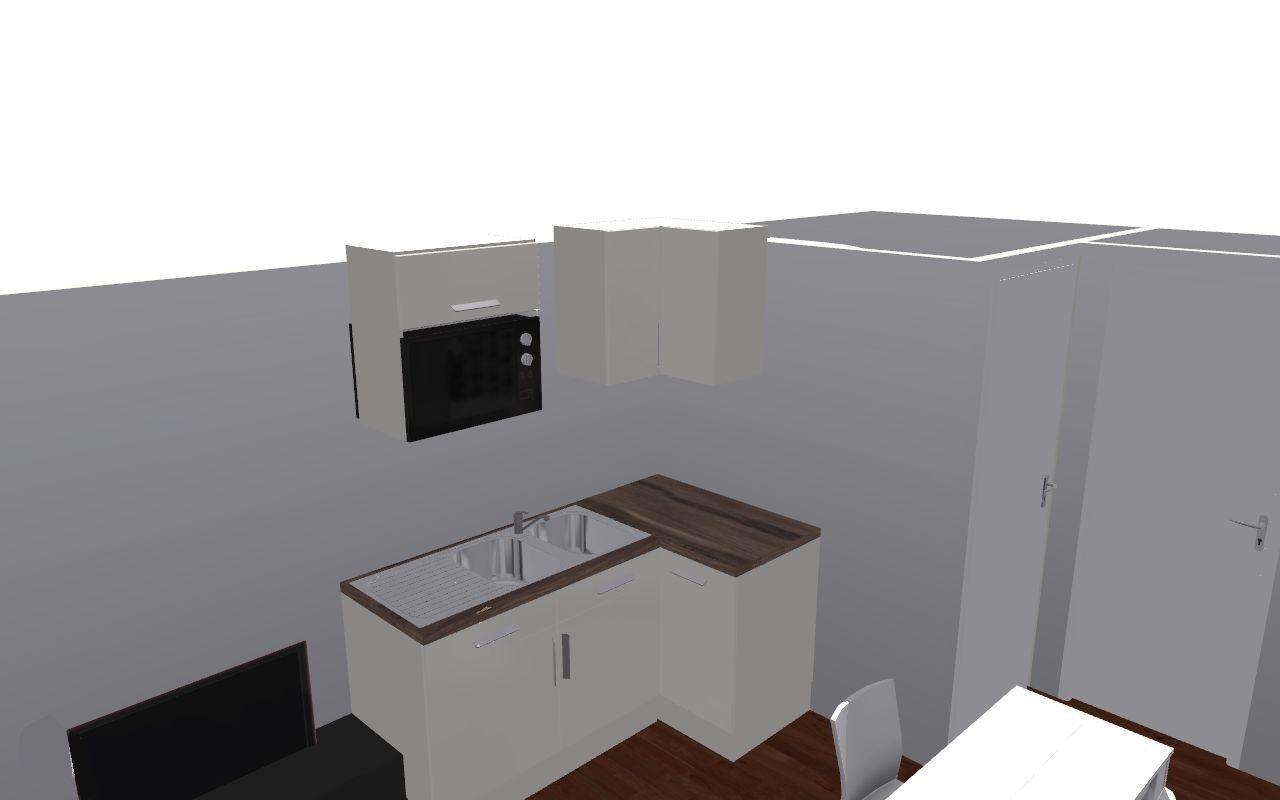 The small but functional kitchen comes with a microwave oven as standard. A portable stove can be kept inside the cupboards as supplementary cooking methods.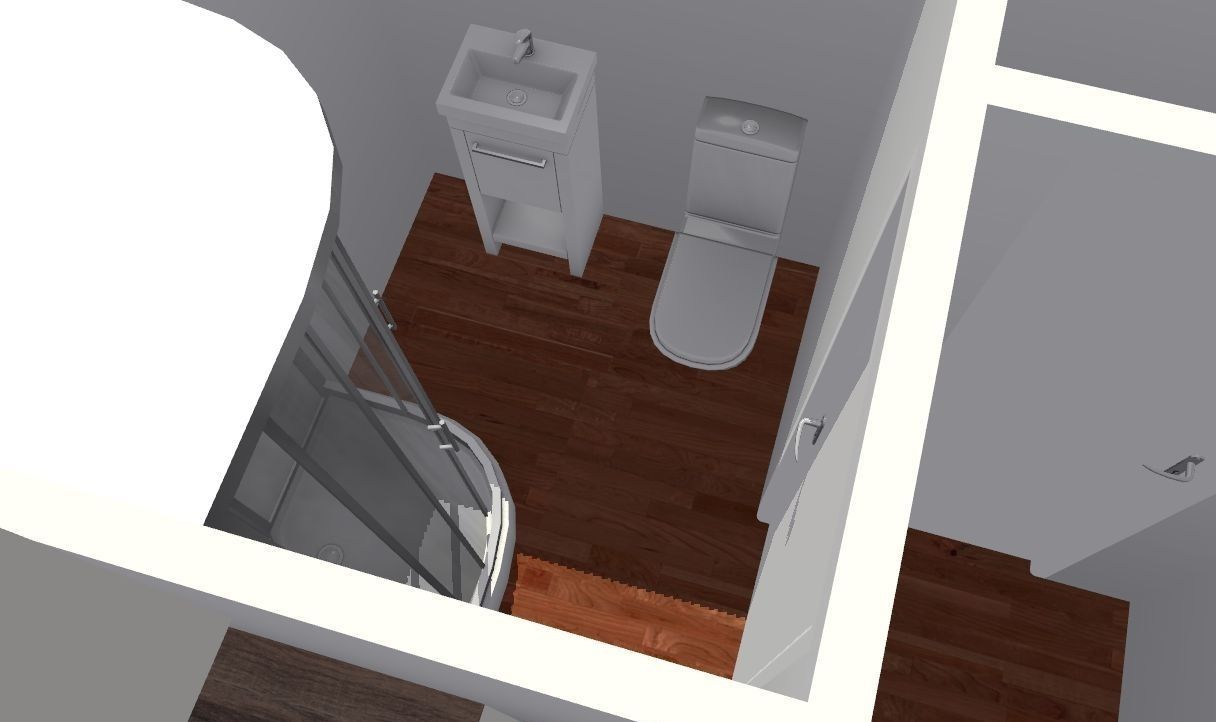 Toward's the entrance there is a thermostatic shower and cubicle with WC and sink. The electric boiler supplies the hot water. Other water is stored in a water tank and is suitable for drinking. A standard install will include 800 litres of drinking water (depending on how long it will be stored for), other amounts are optional extras. Bottled water is best stored for drinking purposes.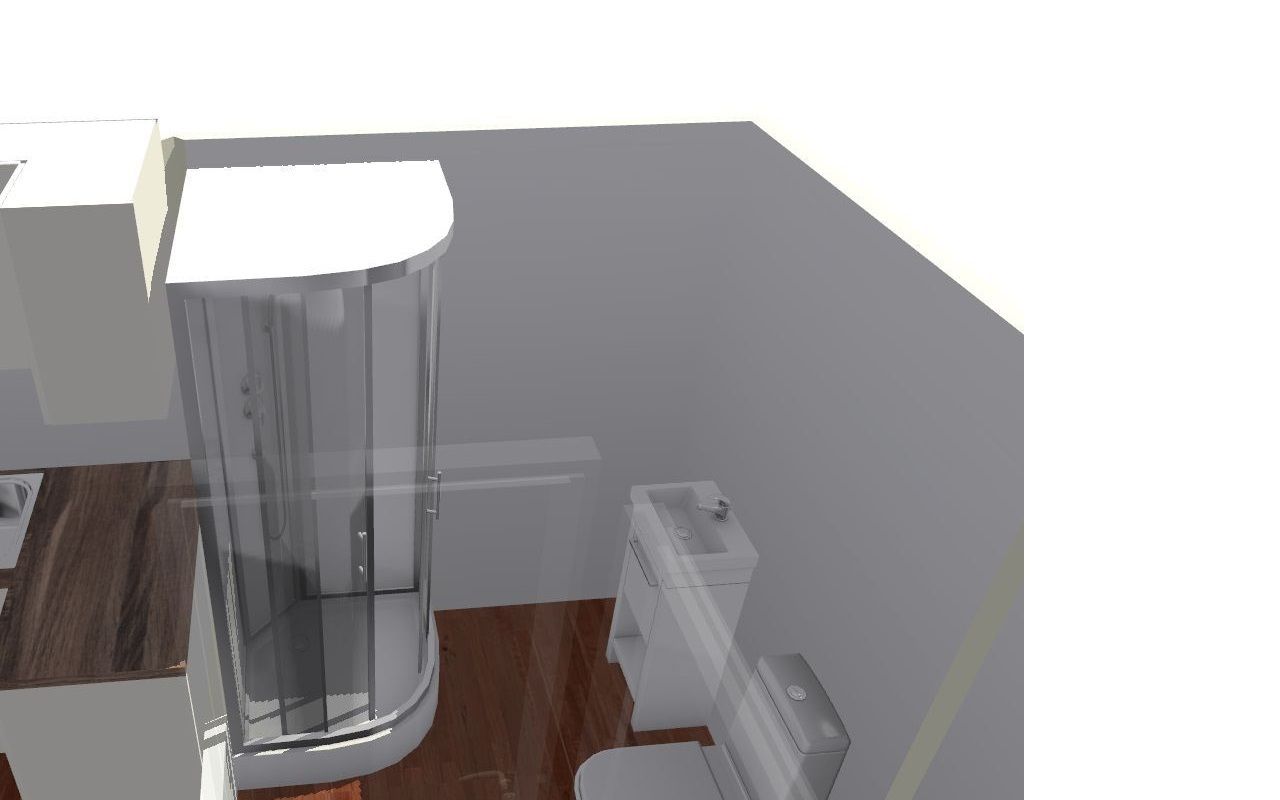 There are many extra options you may discuss with us but this package is certainly enough for any foreseeable disaster.
FAQs
I'm considering a bomb shelter but I'm worried that it would be a waste of money. Is it worth the bother?
The terminology bomb shelter is somewhat old fashioned these days. The shelter is far more likely to be used to shelter from radioactive fallout from a terrorists dirty bomb or a safe room. It's not for us to sell the idea to you. You know you need a shelter, equipped for emergencies and the reasons for choosing a shelter will vary for each individual. I chose my shelter because I was worried about the fallout from some kind of nuclear event and I wanted to keep food, water and some supplies for my family in the event of a natural or man-made disaster. I realised that many others have not thought of this and the fact that I have taken these measures meant my family could then become a target for those wanting to take those resources in times of need. This fallout shelter covers everything I need and as a plus, I have a home gym and space for the kids to make as much noise as they want. It's 'like' a 2 bedroom flat.
How many people will fit in this shelter?
For the duration of 3 days, for example, you could accommodate 20 persons. For longer duration's (3 months) the design would accommodate 10 people. The air circulation would be more a factor than space. Remember the more people you shelter the greater the resources will be needed. Always assume that you will be accommodating a greater number of people than you planned.
Do we offer disabled access?
Our clients often have a disabled or infirm family member, pets etc. Consider the fact that you may be injured, how can you climb down a ladder with one broken arm with the dog and the baby under the other arm? Our doorways are wide enough for a wheelchair to fit through and we provide a normal stairway, so it can be adapted the same as any other property.
Is your property suitable for this shelter?
Due to the size of this unit, you will fall inside the planning laws, bomb shelters do not require planning permission. It is important to consider any adjoining properties and any 3rd party agreements. Obviously the larger the parcel of land the better but there are options.
The structure will not require any planning permission provided the floor area is less than 30m squared (ours are 27.5 square meters plus the stairway so we are well within the legal requirement). However, it should normally be a 5m distance from any adjoining buildings. If the fallout shelter is too large, there may be adjustments we can make. If you want the shelter to be double stacked or enlarged in some way, we can meet your requirements.
Will my neighbours find out?
As far as anyone is concerned we are a septic tank company. We will label the units as septic tanks in large letters to avoid any undue attention or questioning. In our experience, it's best not to tell anyone that you have a fallout shelter. Our staff have uniforms and logos relating to the septic tank business to carry on the guise. The unit is not classed as a wide load so there will be minimal fuss transporting the unit into position but a crane will most likely be needed.
How much do I pay?
Half the money will be required upfront to cover production costs, surveying fees and other costs. The other half will be required once the shelter is completed and inspected by yourself, in the unlikely event you are not happy we will make any amendments before you pay the full amount. There is a limited production of units each year. The total cost of an install varies depending on the site size, location, access and ground, potential costs will be disclosed to genuinely interested parties. The price may increase if there are access issues or if services must be diverted. We do not have hidden charges but please remember alterations will be at the buyer's expense. Consider the cost of a 2 bedroom flat built for you and then factor in the enormous task of burying it so that it is bombproof and this price is very reasonable. If for any reason you are not satisfied with the project we will do our very best to provide a solution. We don't just move onto the next job, we will offer after-sales support and advice.
Will I get what I want? What do I get for my money?
Our standard package is more than enough for any eventuality. The shelter will be fit for the purpose as a bomb shelter, fallout shelter and will also double up for natural disasters such as flooding, earthquakes, storms and a safe room from burglars etc. The shelter may also increase the value of your property, but please seek independent advice on this. The shelter will be safe during a flood for up to 7ft, the ventilation system will be set at a height of 8ft.
We have installed shelters that are used as a personal gym (without the rear rooms) and a games room, home offices and even a wine store. What you do with it is up to you but to avoid planning permission the item supplied is a 'fallout shelter'. If you wish to use it as a 2 bedroom extension then that's your business.
How much?
We will come and inspect the ground and if the project is viable we will require a 50% deposit. If you change your mind we will refund half that deposit.
The Shelters Specifications and Features
34′ long x 9′ wide and 8′ high internal dimensions

We will send your soil samples off for analysis

We will excavate, remove and dispose of the earth and install the unit

Hidden stairway entrance installed in an outbuilding

Comes with a blast valve and ventilation hidden inside the outbuilding

Insulated and finished in a white painted finish

LED lighting and electrical sockets with electrics fully tested

'Off the grid' solar power system. 1 kW or uprated to your requirements at extra cost

Radiation shielding providing several layers of protection

Ergonomically designed interior to prevent injury and to promote the ease of cleaning

Septic tank

Internal water storage (uncontaminated by the outside)

Room for 2 single bunk beds, a double bed and a sofa bed – sleeps 10 (furniture is not included)

Provisions for hot running water and a backup battery system (best suited for lighting only)
The fallout shelter is a strengthened steel shelter welded inside and out with an exoskeleton (no tubular steel is used because they will eventually internally corrode). Then the shelter is coated with a polymer layer that protects the metal and helps keep it watertight. Several layers of radiation shielding including high and low-density materials including lead and plastic are fitted. Then a 100mm layer of foam insulation is added. Once the unit is fitted in place the unit is heated to a normal temperature to allow the metal to expand somewhat before 35 cubic meters of concrete is added. The concrete is a special mix designed to repel water and is reinforced in two ways. A thick membrane is then added to allow all moisture to pass over the shelter without causing drainage issues. Then a layer of hardcore and topsoil is added and the ground is turfed. If this part is not done properly the grass will look great for a few weeks and then it will die. The entrance to the shelter is located in the outbuilding which you may choose the style and size of (if the cost is over £1500 this will be added onto the price of the build). There is some flexibility of where the outbuilding can be positioned.
Will it shield me from fallout and other radiation?
Radiation loses its intensity fairly rapidly. Radioactive fallout poses the greatest threat to people during the first two weeks, by which time it has declined to about 1 per cent of its initial radiation level
The heavier and denser the materials – thick walls, concrete, bricks, books and earth – between you and the fallout particles, the better. There are several different types of radiation and each requires a different approach, some pass through lead whilst being slowed by water for example.
Gamma and X-ray Shielding
Lead is one of the better solutions for X rays, Gamma rays require mass to slow them down
Alpha and Beta Particles
Alpha is fairly simple and will be shielded by the earth and concrete. Beta is shielded by lead and plastic.
Neutron Shielding
Lead is quite ineffective for blocking neutron radiation, as neutrons are uncharged and can simply pass through dense materials. Materials composed of low atomic number elements are preferable for stopping this type of radiation because they have a higher probability of forming cross-sections that will interact with the neutrons. However, low-density materials can emit gamma rays when blocking neutrons, meaning that neutron radiation shielding is most effective when it incorporates both high and low atomic number elements. The low-density material can disperse the neutrons through elastic scattering, while the high-density segments block the subsequent gamma rays with inelastic scattering.
We have carefully considered how we shield you in the design of the fallout shelter if the shielding is not correct the whole shelter could become irradiated.
How long will this take to install?
We will aim to produce and install all units unless there are complications within 3 to 4 months. The job is difficult and we must excavate and install quickly and covertly. We will keep you updated and choose an installation time that is convenient. Planning is the key here, soil samples and engineering checks will need to be made as with any major groundwork.
Why should I choose you? I could just bury a shipping container or make my own shelter.
We have eliminated the need to worry about electrical issues and fires, flooding, structural issues, design and layout etc. We understand that you have your own ideas and we are happy to take any onboard but we know what we are doing and this is a serious undertaking.
If you choose a DIY option or another company please be careful. A shipping container will not be suitable as an underground fallout shelter. Basically it will collapse and most probably flood with water with you trapped inside. A concrete or brick wall unless extremely thick could start to crack as the ground swells and contracts. There is also no flexibility in concrete so their resistance to seismic activity over time is less than steel. There are also a lot of environmental issues with living underground for any period of time.
Other alternative pre-made pipe shelters can be made from corrugated steel. We would not install this type of fallout shelter, they are weak and not watertight. There is a strong possibility they would buckle and fold like a tin can. They are also quite difficult to live in and will inevitably lead to claustrophobia. Our shelters are subterranean 'rooms' not storm drain pipes, they have been seriously over-engineered so you know you are safe. What use is it if it floods after a couple of years or you are crushed under 100 tonnes of earth whilst others are safe in their homes?
If you look at some designs on the internet as you research you will see few if any are insulated. This is a big mistake. Imagine being stuck in a room underground made from metal or concrete? The room would be freezing cold in no time and condensation would drip all over you. How would you keep warm with no electricity? We are assuming there will be no power and you have entered the shelter with only the clothes on your back. We do not divulge every technical aspect of our shelter's construction, but it's worth saying that a steel container surrounded by concrete would be under some serious stress if not designed properly. Our units have some expansion room between the steel and the concrete. We do not use box section steel because you are effectively trapping air once the unit is underground which will eventually corrode and cause structural issues so we use angle iron instead allowing us to paint and insulate with no voids or inaccessible areas.
For genuine expressions of interest, please contact us. Please note that a degree of vetting will be conducted and a non-disclosure agreement will be required.